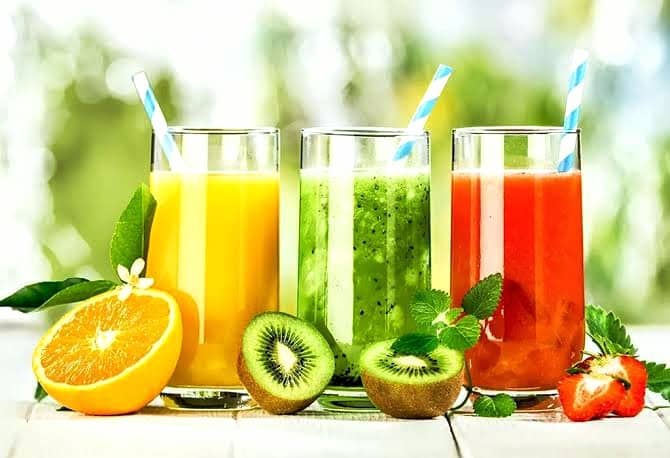 4 tasty, healthy morning summer juice you could easily make in a few minutes and you can also incorporate them into your daily life. Juices have the unique quality of being packed with micronutrients and if you want to know when is the best time to take these juices? Well, Juice is best had first thing in the morning instead of coffee or tea. A glass of this juice will give you energy for the rest of the day. You can also have this after working out at the gym; a glass of this juice either chilled or with ice will undoubtedly Freshen you up.
When it comes to juicing, sometimes it can feel like there are a million different mixtures and combinations to try. But don't worry, we're here to help. In this post, we're sharing our favorite list of 4 tasty, healthy morning summer juices.
To start, we recommend our refreshing orange-lemon-ginger juice. For a heartier juice, try our beet, cucumber juice, and apple juice. And finally, if you're looking for sweet juice, try our pineapple, honeydew, and ginger juice.
So there you have it—our delicious, 4 healthy summer morning juices. Whether you're cleansing your system or just refreshing your taste buds, these juice are sure to please.
Related post: Our 12 Most Popular Healthy Recipes
4 Tasty, Healthy Morning Summer Juice
1. Orange Juice
Orange juice is packed with vitamins and minerals, making it an excellent choice for a healthy summer juice. An orange juice a day can help keep your heart healthy and your skin looking young. Plus, orange juice is a great way to get your daily dose of vitamin C.
One of the health benefits of orange juice is that it can help improve your cholesterol levels. The flavonoids in orange juice can help to reduce bad cholesterol levels and increase good cholesterol levels. Additionally, orange juice can also help to reduce blood pressure levels.
Recipe
Here's a recipe for orange juice that you can try at home.
Ingredients:
Some Oranges
Some ice cubes
Instructions:
Wash the oranges
Peel the back, remove the seeds and cut in halves
In a blender, blend the orange halves and the ice cubes until its smooth.
Serve and enjoy!
2. Watermelon Juice
Watermelon juice is a healthy drink that can help you stay hydrated and energized. It is also a good source of vitamins A and C, which can help you stay healthy. This juice is a great way to cool down in the summertime.
Watermelon juice is a great way to get your daily dose of vitamins A and C and other health benefits. Not only are these vitamins important for your health, but they also help to improve your vision, your immune system, and your overall well-being. One cup of watermelon juice has over 100% of the daily recommended value of vitamin A and over 50% of the daily recommended value of vitamin C!
Looking for summertime refreshment? Why not try making your watermelon juice? There are many recipes for juicing watermelon, so find one that is easy and convenient for you. Here are a few recipes to get you started:
Creamy Watermelon Juice
Ingredients:
1 cup chopped watermelon
1 cup coconut milk
1 cup plain yogurt
¼ cup honey
1 teaspoon vanilla extract
Directions:
Add all ingredients to a blender and blend until smooth.
Then filter with a thin clean cloth
Serve in a glass and enjoy!
Fruity Watermelon Juice Ingredients:
To make this delicious watermelon juice, start by cutting a watermelon into small pieces. Next, place the watermelon pieces into a juicer and juice them. To make the juice more refreshing, add some fresh mint and lime juice to it. Enjoy!
Read more: 10 Easy Recipes and health benefits
3. Pomegranate Juice
What is Pomegranate Juice?
Pomegranate juice is a popular beverage made from the juice extracted from pomegranates. This juice is a rich source of antioxidants, including polyphenols and flavonoids, which are thought to have health benefits. Some of the health benefits associated with pomegranate juice include a reduced risk of heart disease, cancer, and stroke. Additionally, pomegranate juice is a good source of vitamins C and E, as well as magnesium, potassium, and fiber.
What is the composition of pomegranate juice?
This juice is composed of water, pomegranate solids, and pomegranate juice concentrate. It's also a delicious and healthy morning summer juice. Pomegranates are a great source of vitamins C, E, and B6, as well as antioxidants. They are a good source of copper and fiber.
Pomegranate juice is a popular drink enjoyed by many people all around the world. It's also a great way to help regulate blood sugar levels and promote a healthy appetite.
Recipe
Pomegranate juice is a delicious and nutritious drink that can be enjoyed as a refreshing treat or as part of a healthy diet. Pomegranate juice is made by extracting the juice from pomegranates with a juicer. The juice can be sweet or tart, depending on the amounts of sugar and tartaric acid used in the juicing process. The juice can be stored in a sealed container in the fridge for up to two days.
Read also: Cucumber: Importance And Health Benefits
4. Mango Juice
Mango Juice is a great healthy morning summer juice. It is packed with vitamins, minerals, and antioxidants. It is also a good source of fiber and potassium.
Mango juice is a delicious, refreshing beverage that can be enjoyed any time of day. Made from pure mango juice, it is a great way to get your daily dose of fruits and nutrients. Mango juice is also a good source of vitamin C and vitamin A.
Summertime is the perfect time to enjoy a fresh, healthy juice. Here are five recipes to get you started:
Mango Juice with Spinach
Ingredients:
some mangoes, peeled and cut into chunks
1 cup fresh spinach
1 inch piece ginger, peeled and grated
1 lemon, juiced
Instructions:
In a blender, blend the chopped mangoes, spinach, ginger, and lemon juice until smooth.
Then filter with a thin clean cloth
Serve immediately or store in a sealed container in the fridge for later.
Enjoy!
Mango-Pineapple Juice
Mango and pineapple are a popular combination because of their sweet and fruity flavors. They are also high in antioxidants, which can help to protect the body against damage from the environment and cancer.
Juicing these fruits together creates a nutritious and delicious drink that can help to improve your overall health. The combination of mango and pineapple is especially beneficial because they are both high in vitamin C, which is essential for the immune system.
If you're looking for a tasty way to boost your immune, try the mango juice
Related post: 12 Mood-Boosting Snacks to Make You Feel Better
FAQ
Which juice is good for an empty stomach?
Drink on an empty stomach first thing in the morning. Why: By eliminating metabolic waste and bringing the blood's pH level from acidic to alkaline, fresh lemon juice cleanses the body. You may find it challenging to have a regular bowel movement if you suffer from constipation, a common digestive disorder.
Which juice is good for health in summer?
One of the best summertime fruits is the watermelon, and its juice is much better. Its hydrating qualities help to keep the body hydrated and fresh, and it is quite reviving.
What drink helps the body stay cool?
The finest beverage for cooling the body is lime soda. One can stay energized all day long with a glass of lime water that has been blended with cumin powder, a tablespoon of sugar or honey, and a teaspoon of salt. You stay hydrated, which aids in controlling body temperature.
Which juice is good for skin glow?
Pomegranate makes skin sparkle and purifies the blood. Additionally, it possesses anti-aging qualities that promote cell renewal and give you a younger appearance. Iron and vitamin K is abundant in spinach juice and are crucial for beautiful skin. Additionally, it contains vitamins C, E, and manganese, which guard your skin against free radicals.
What juice is best to consume in the morning?
Orange juice is the most consumed juice during breakfast, and with good reason! One glass of orange juice contains 137 percent of the daily required amount of vitamin C. This nutrient aids in the production of collagen, the absorption of iron, and the maintenance of healthy bones in addition to supporting a robust immune system.
Which juice reduces heat?
Every day, drink a glass of pomegranate juice to stay cool and reduce body heat. A great source of phytonutrients, it Maintaining a low body temperature is easy by eating onion with lemon, salt, and/or curd. Body temperature can be dramatically lowered with the use of aloe vera leaves or gel.
What juice contains the most protein?
Guava is the only fruit that can claim to have higher protein than 4.2 grams per cup.
Which juice lessens pimples?
Juices from fruits like watermelon, oranges, and pomegranates are not only beneficial for your health but also for the condition of your skin and hair. These include nutrients that make the skin glow and clear acne. In addition to helping with acne, turmeric has antibacterial and antioxidant qualities.
Conclusion
You can see that morning summer juice is a great way to start your day. Taking these 4 tasty, healthy morning summer juice is a great way to get more vitamins and minerals in your body, and it is also a good way to get energy. It is very good for your family and if friends and family come over to your house, instead of giving them the normal soft drinks you can quickly make this delicious juice and serve them. With all these options mentioned above, do well to enjoy your summer break…