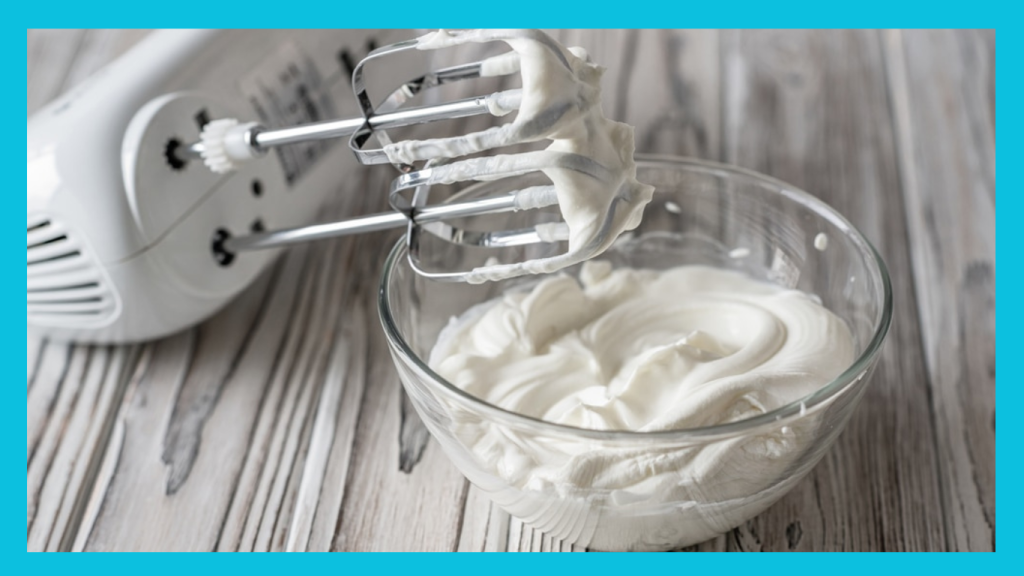 It is soft and tasty, and it takes 5-10 minutes to get ready. Learning how to make whipped cream in a much more delicious way is one of the things you should gift yourself this year. Whipping cream or Chantilly cream as it is also called is something that goes with basically everything. You can have it on your food, cakes, berries, etc.
Whipping cream is known by different names depending on where you are from, such as double or heavy cream; is this the case in your nation as well? or does it have a different name?
In today's recipe, we will be using two(2) cups of heavy cream but you can scale this up or scale it down depending on the quantity or batch you will love to make. There are a few stages when you make whipped cream, It could be soft, for example when spooning onto berries, or a bit stiffer and stabilized when filing a cake, decorating it, or making beautiful dollops.
Equipment Needed For Making Whipped Cream
Mixer
Bowl
whisk
Ingredients For Making Whipped Cream
For this recipe, we will be using three(3) ingredients. Serving for 1 batch.
¼ cup powdered sugar (Domino confectioners sugar)
2 Tsp of natural Vanilla extract (Nielsen-Massey Vanilla extract)
2 Cups Of heavy cream ( Heavy Whipping Cream)
Step-by-Step Process On How To Make Whipped Cream
Making whipped cream is such an important skill. It goes into many different types of recipes and no matter how simple the process might seem, almost everybody messes up at some point. So, knowing when to stop whipping is the key point.
Pour the heavy whipping cream into the cold bowl.
Add the powdered sugar to the bowl.
Add the Vanilla extract.
Start the mixer on a low setting then gradually increase on a high after some minutes until it is your desired soft texture.
Things to note before making Whipping Cream
Place the bowl, whisk, and heavy cream for the recipe in the refrigerator for 15-20 minutes before preparation. This way your whipped cream will beat up much faster even if you decide to whisk it by hand.
It is best to serve your whipped cream immediately to retain that peak freshness and deliciousness.
If you stored some in the refrigerator, you would have to give another whip just to restore the consistency.
Do not overwhip the cream instead of having a smooth, confection-like texture they could become curdled.
Be careful of your measurement as the recipe can double its size once whipped.
If you notice any curdling, or yellowing in color, or it gets too stiff that is a sign that you should stop whisking immediately.
Frequent Asked Questions
How long does it take to whip milk into whipped cream?
It takes about 3-4 minutes to whip cream. You can start from medium to high speed until it is soft or loose in texture.
What is whipping cream used for?
It is frequently used as a topping on berries, cupcakes, ice cream, pies, cheesecakes, waffles, and other fruits and desserts.
Is there other milk that can be used for whipped cream?
So, I haven't tried different milk creams for toppings, but I've read that whole milk, skim milk, or coconut milk would all be good options.
What are the four(4) whipped creams?
There are four stages in homemade whipped cream, they are No peak, Soft peak, Stiff peak, and Over whipping.
Why should I use whipping cream?
Whipping cream contains essential fat-soluble vitamins including Vitamin A, D, E, and K.
Can I freeze whipped cream?
Yes, you can freeze the extra or remain for later use instead of throwing it out. we listed above how to make it look fresh again.
How do you make whipped cream stay firm?
To make whipping cream that will last for a few hours, add 1 tsp of confectionary sugar to 1 cup of whipping cream before whipping.
Why is my whipped cream not fluffy?
If the cream is not cold enough you won't get the proper fluffy texture which is a common mistake people make. Although there is no set temperature, the cream has to be cooled to achieve a fluffy texture.
Why did my whipped cream turn watery?
It is important to keep the whipped cream in the refrigerator after use as much as possible, it gets watery when it is not in the refrigerator for too long.
What kind of bowl is best used for whipped cream?
It is best to use glass or stainless steel bowls they have the capacity to retain the cold on the bowl for a longer time than plastic bowls.
Conclusion
Will you be giving this a trial? You can have excellent handmade whipping cream in only five minutes. It is very rich and creamy so once you try this recipe you won't go back to buying from the store.
Carefully follow the steps above and with more trials, and if you have any questions, kindly send us a message we would love to help you.