Stuffed chicken breast is a versatile and flavorful dish that impresses. It is easy to make and it tastes so fancy and delicious. We love stuffed chicken breast recipes, and if you are looking for a new chicken idea spinach and feta stuffed chicken is a must-try!
To begin with, it's essential to choose premium chicken breasts for your filled meal. Look for boneless, skinless chicken breasts that are supple, uniform in size, and devoid of any stains or rips. If using frozen breasts, make sure they have been fully thawed.
How to Make Spinach and Feta Stuffed Chicken Breast
This is a combination of Spinach and feta in a chicken breast. So, if you are a fan of rich, flavorful combinations, then look no further than the mouthwatering goodness of Spinach and Feta Stuffed Chicken Breast. This combination results in a tantalizing blend of flavors that will leave you craving more. The steps will guide you to a world of delicious spinach and feta chicken breast. Let's dive into it.
Ingredients To Use
To make Spinach and Feta Stuffed Chicken Breast, you will need the following ingredients:
4 boneless, skinless chicken breasts
2 cups fresh spinach leaves, chopped
1 cup crumbled feta cheese
2 cloves garlic, minced
1 tablespoon olive oil
1 teaspoon dried oregano
Salt, pepper, and paprika to taste
How To Prepare The Chicken
Preheat your oven to 375°F (190°C) and line a baking dish with parchment paper or lightly grease it.
Wash the chicken breast nicely, and butterfly the chicken breasts by laying them flat on a cutting board and slicing horizontally through the thickest part, stopping just before reaching the other side. Or you could use an even-sized chicken breast so they cook evenly after that, open the breast like a book. You're basically creating a deep large pocket to stuff the chicken breast.
Prepping the filling
Heat olive oil in a skillet over medium heat. Add minced garlic and sauté until fragrant.
Add chopped spinach to the skillet and cook until wilted. Remove from heat and set aside.
In a mixing bowl, combine the cooked spinach, crumbled feta cheese, and dried oregano. Mix well to evenly distribute the ingredients.
How To Stuff The Chicken Breast
Fill each chicken breast with about a third of the mixture.
Spread the mixture out slightly, and seal the mixture inside the chicken breast.
Use at least two toothpicks per chicken breast, you can use more if you have a bigger chicken breast. Push them horizontally to seal the two sides together. Sealing them together ensures that most of the filling won't leak out during the cooking process.
Next, Season the chicken breasts with salt, black pepper, and paprika on both sides generously and set aside.
Cooking Method
Use a skillet that can go in the oven, heat it to medium, and add one tablespoon of olive oil. The stuffed chicken breast should be added once the oil is hot and sauteed for four minutes on each side over medium heat, or until each side is golden brown. If the chicken is browning too quickly, turn down the heat, and if not soon enough, turn it up. Carefully flip the chicken and cook for another four minutes. The chicken won't be fully cooked through at this point and that's okay! the goal is to get a beautiful browning on the outside of the chicken breast. Now, transfer the hot skillet to the preheated oven and bake at 165°F (74°C). for about 10-15 minutes. After that, the chicken is ready to be served!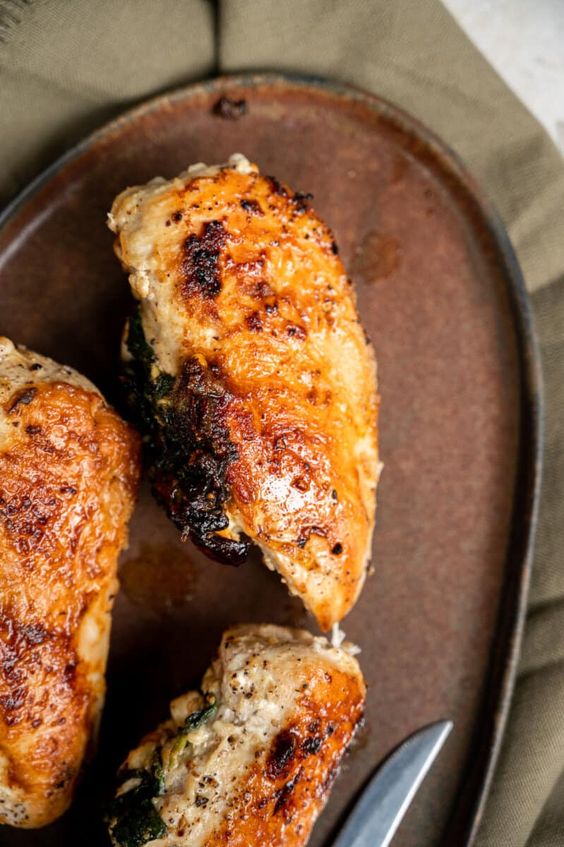 Serving Suggestions
Allow the stuffed chicken breasts to rest for a few minutes after taking them out from the oven before serving to retain their juiciness. Then serve alongside your favorite sides, you can also drizzle a squeeze of lemon juice for an extra burst of freshness(optional).
Things to note
Remember how many toothpicks you used so you don't forget to take out the toothpicks when serving them.
When sealing it helps to place the chicken breast cut side up so that it's facing you. this way, it is easier to see the way the toothpick is going.
If you don't have a toothpick, kitchen twine could be a good option.
To check if the chicken is evenly cooked, use a meat thermometer to check the internal temperature.
Conclusion
A tasty and adaptable recipe that encourages culinary imagination is stuffed chicken breast. You can simply make savory and eye-catching stuffed chicken breasts by following the instructions provided in this article. Stuffed chicken breast is guaranteed to be a favorite at your dinner table, whether you like a traditional pairing like spinach and feta or want to explore new filling possibilities. Enjoy experimenting with various flavors and let your palate lead you to your favorite combinations!