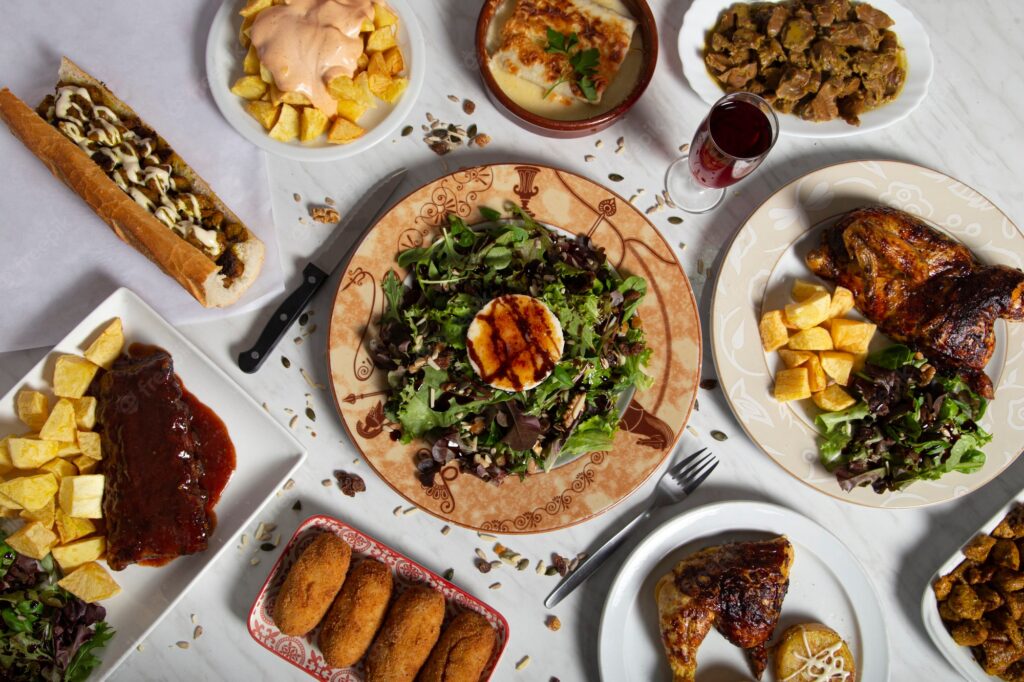 "When the first dish on the menu is called "The World," you know you're about to taste something mouthwatering." Tada! That's a Spanish dish for you…
It will be fair for me to say, knowing these 10 mouthwatering Spanish dishes you need to try have made many people board a flight to Spain every day. let's talk about high-profile chefs such as Ferran Adria, and the Roca brothers, founders of the El Celler de Can Roca have brought many Spanish dishes recognition worldwide.
Few countries can match the allure of Spain. The endless summer of the Costa del Sol. The busy tapas bars serve up the freshest Spanish dishes west of Rome. And the late-night buzz of its ancient towns and cities. All these help make it one of the most exciting destinations in the world.
How do you put the world dish on the plate? Well, before you set off to Spain. These are 10 mouthwatering Spanish dishes you need to try. From meat to seafood are all special dishes to eat.
Related post: American Foods: 11 Favourites American Food – Earthlydiets
1. Patatas bravas
Patatas bravas are Spanish dishes made from potatoes that have been battered and deep fried. They are served with a sauce that is made from a mixture of garlic, olive oil, and vinegar. Patatas bravas are a popular dish in Spain and are often found at restaurants and cafés. They are also a popular dish at home and can be made with a variety of different sauces.
They are commonly served as a side dish, but can also be used as a main dish.
Favorite places to enjoy this mouthwatering Spanish dish in Spain include;
In Docamar (Madrid, Spain).
In Bar Tomás de Sarrià (Barcelona, Spain).
In Elsa y Fred (Barcelona, Spain).
In Ciudad Condal (Barcelona, Spain).
2. Gazpacho
When it comes to Spanish dishes, gazpacho is an exceptional mouthwatering dish you need to try. Gazpacho is a Spanish cold soup that is often made with tomatoes, cucumbers, garlic, olive oil, and vinegar. This cold soup can be served with croutons, boiled eggs, and olives, or with toast. Gazpacho is a refreshing and healthy soup that can be enjoyed any time of year. I will suggest Enrique Becerra, Seville a favorite place for Spanish dishes like this.
In terms of health benefits, this Spanish dish is a good source of vitamin C, vitamin A, and potassium.
Read also: Dal Soup: Easy Recipe And Health Benefits – Earthlydiets
3. Paella Valenciana
The world-known paella Valenciana. Among all the Spanish dishes I will be listing in this article, this special dish is known as the most famous Spanish dish of time and certainly the most abundant. This is Valencian seafood and rice dish, typically made with seafood, such as prawns, clams, mussels, and squid, and flavored with saffron, garlic, and olive oil.
Paella is a healthy dish because it is high in antioxidants and the rice is cooked with a variety of spices. This dish should be on your top list whenever you visit Spain.
La Matandeta near Albufera, Valencia is a very fantastic location for Spanish dishes like the "paella"
4. Pimientos de Padron
Padrón peppers are a specialty of the Andalusian region of Spain. They are known for their smoky flavor and are used in a variety of Spanish dishes, including paella, gazpacho, and tortilla española. Pimientos de Padron is a typical dish on the top menu, there are green peppers usually got from Galicia town in Spain's lush, rainy northwest.
Bierzo Enxebre, Santiago de Compostela is a good place well-known for this dish.
5. Jamón
This is the most celebrated product among all Spanish dishes. It's also known as the "cured ham". Spanish ham is a type of cured, cooked pork meat. The meat is usually sold in a piece or sliced and is usually cooked in a garlic and sugar broth.
Spanish ham is a popular dish in Museo del Jamón, Madrid, and is often served with bread and a pickle.
6. Fideuà
This dish is a well-known tourist for Spanish tourists. Fideuà is a Spanish dish that is made with a beef and vegetable stew. The stew is cooked in a tomato sauce and is served with rice and a side of vegetables. These Spanish dishes can be made with a variety of different vegetables, but the most common are potatoes and carrots. This dish is a great way to get your daily dose of vitamins and minerals, as well as some important antioxidants.
Fideuà is also a good source of protein and healthy fats. El Rall, Valencia is one favorite place to try this meal.
7. Churros
Churros are a Spanish dish made from thick, doughnut-like pastries that are deep-fried and served with a variety of toppings.
They are a portion of popular street food in many parts of the world and are often sold from street kiosks and carts. It's usually fun dipping them in hot melted chocolate. San Ginés, Madrid is a good location to try Spanish dishes like this.
8. Tortilla
Tortilla Spanish dishes are some of the most popular in the world. This is because they are simple to make and can be adapted to fit almost any taste. There are many different tortilla Spanish dishes to choose from, but some of the most popular include tortilla española, tortilla de patatas, tortilla de camarón, tortilla de chorizo, tortilla de pollo, and tortilla de queso.
Tortilla española is a simple dish made from flour, water, and salt. It is usually boiled in a saucepan until it is soft and pliable. Then, eaten for breakfast, lunch, or dinner. Tortilla española is a popular dish in Spain and can be found in most restaurants or self-adored tapas bars.
Tortillas are a great source of fiber, protein, and healthy fats, and they can be used to make a variety of dishes.
9. Croquetas
This type of dish has its own unique taste, which differentiates it from other Spanish dishes. Croquetas are croquettes made from either potatoes or breadcrumbs and then fried. They can be served as a main dish or as a side dish.
These Spanish dishes are often served with a dipping sauce or with a beer. You can try them at Casa Julio, Madrid. Jamón croquetas and salt cod croquetas are common varieties of this dish.
There are many health benefits to eating croquetas, including reducing the risk of heart disease and improving blood pressure.
10. Albondigas
Cafe OMKA, Granada is a place you should not miss eating albondigas. These mouthwatering Spanish dishes are so tasty and are mostly served all over Spain. Albondigas is a type of Spanish dish that is made from meatballs or meatloaf that are boiled in a tomato sauce.
The meatballs or meatloaf can be made with a variety of meats and can be served with rice, bread, or potatoes. Albondigas are typically done in a broth or sauce and can be made with a variety of spices.
They are a great source of protein too.
Related post: Dhokla Recipe: Delicious Indian Snack And Health Benefits
Frequent-Asked Questions FAQs
What are the top 5 foods in Spain?
I bet you can't leave Spain without trying these top five Spanish dishes.
Gazpacho: The reddest, ripest tomatoes, olive oil, and garlic cold soup.
Paella Valenciana.
Tortilla Española.
Gambas al ajillo.
Tostas de tomate y jamón.
What are the popular snacks to watch out for in Spain?
I do know most of us are snacks lover and I assure you Spaniards have good taste in making delicious mouthwatering snacks. Here is the list of ten favorite Spanish snacks you need to try:
Savory Snacks in Spain
Croquetas: Croquetas are well-known, satisfying snacks in Spain.
Papas Arrugadas (Wrinkle potatoes)
Chicharrón
Patatas Bravas.
Panchitos ( Usually pork or beef skewers).
Cheeses.
Spanish Cured Meats.
Bocadillos (known as the sandwiches)
What is a typical Spanish dinner?
If you happen to travel to Spain and reach there by evening. Then your dinner might include fresh fish or seafood or a piece of roast chicken with fried potatoes or rice. An omelet and fish with a green salad on the side is also very traditional. A simple and quick dish, commonly eaten at dinner is Arroz Cubano, a heap of white rice, capped with tomato sauce and a fried egg.
Why are Spanish dishes considered so healthy?
Well, from my research one top reason is their eating habits
Spain is one of the countries that prance a diet based on the Mediterranean Diet. This diet emphasizes healthy fats and protein. These vitamins are heart-healthy, making Spain one of the lowest-risk countries for heart disease or infection.
Less I forget, there's a Spanish vegetable that can help you lose weight. "For people finding it hard to lose weight, try this"! Jicama is a healthy diet and also among the Spanish dishes to include in your diet. It's high in numerous nutrients, fiber, and antioxidants, which may provide health advantages, including improved digestion, weight loss, and a reduced chance of illness.
Related post: Low-carb Meals: 6 Healthy Recipes 2022 – Earthlydiets
A variety of Spanish dishes are perfect for a quick and easy meal. Some of our favorites include arrachera, a dish made of sliced beef that is marinated in a vinegar and garlic mixture, and churros, the Spanish version of fried doughnuts.
Conclusion
These 10 mouthwatering Spanish dishes you need to try are a great way to enjoy the flavors of the Mediterranean region. They are hearty, flavorful, and can be easily adapted to fit your dietary preferences.
Spanish cuisine is also versatile, so you can enjoy a variety of these "10 mouthwatering Spanish dishes you need to try" I have listed above.